Students for a Just and Stable Future is a student-led, volunteer network leading the way towards bold solutions to the climate crisis. We see a stable climate as an essential ingredient to a world that is not only biologically diverse, but also able to supply enough quantities of food and water for the entire human race, keeping conflict, poverty, disease, malnutrition, and displacement at bay. Our mission is to ensure a just and stable future for ourselves and future generations through bold and meaningful campaign efforts.  We work closely with our community partner, Better Future Project.
Philosophy and Theory of Change
In the strong tradition of some of the most empowering social movements of the past, we are committed to nonviolence as the most moral and effective principle we can use to fight immoral systems of oppression, injustice, and the destruction of our planet as we know it. Students for a Just and Stable Future endorses actions and tactics that are purely non-violent, as we believe that the means we employ to work towards  just and stable future must be in line with the end goals.
(under development, check back soon)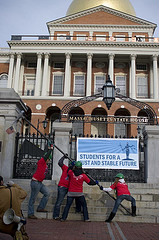 About Pages